HoldmeAVL & Asheville Cuddle Collective host monthly Platonic Snuggle Events.
::PLEASE READ all of the information below before registering::
Upcoming events (click on the date to sign up)
Go to Meetup to find links for upcoming events!
Send an email (holdmeavl@gmail.com) if you want us to notify you of future events.
This is a non-sexual touch based event that invites participants to explore platonic intimacy with like-minded people in an environment that upholds personal boundaries and respect through a supportive framework of mutual agreements that maximize safety and create a space of easy openness and compassionate connection.
At this event we have the chance to normalize touch and intimacy with clear boundaries; this is a space for respectful, consent-based touch. We allow ourselves to be seen. We have fun. We get our touch needs met.
We welcome people of all backgrounds, genders, ethnicities, economic statuses, races, spiritual or religious beliefs, sizes, and ages.
THE RULES OF CUDDLING
Clothes stay on for the whole event.

You do not have to touch anyone at a Cuddle Club event.

You must ask permission and receive a verbal YES before you touch anyone. Please be specific in your requests.

If you feel a yes, say YES. If you feel a no, say NO. If you're a maybe, say NO. You can always change your mind.

Get your facilitator or assistant if you have a question or concern, or if you need assistance with anything during the event.

Talking, laughter, silence, silliness, stillness, and crying are welcome.
WHY CUDDLE?
Touch is a basic human need, and many of us do not get enough; most people don't even know they are missing touch, or have a way to ask for touch without sexualizing it. We believe deeply in the power of touch, and the importance of communication and consent in creating a safe space for touch.
CUDDLING WITH STRANGERS
Cuddling with strangers sounds weird or scary to most people. "Will I like it?" "What if someone wants to touch me and I don't want to?" "What if I say yes and it's not what I want?" "What if I really want to touch someone and they say no?" These are all normal questions. The answer is that this is a space created to ask for exactly what you want, and receive NOTHING you don't want. Many people start out nervous at a cuddle event. Most are really, really glad they came.
Schedule:
6:45-7pm: Arrive with snacks to share! Get comfortable, meet, mingle, & snack.
7:05pm: Welcome Circle- its mandatory. We will set our container, talk about personal boundaries, communication, & consent.
If you show up after 7:05 you will not be allowed to join.
7:15pm: Icebreakers and connective activities.
7:30pm: Open cuddling! You MUST ask and get a verbal 'yes' before touching or cuddling with anybody at this event. If you are not sure how to do this – great! – we will talk about it during the welcome circle.
10:45pm: Closing Circle
11:00pm: cleanup and head home.
ETIQUETTE
ARRIVE ON TIME: It is important that all participants arrive before the Welcome Circle. The Welcome Circle serves the purpose of creating the safe space for consensual, non-sexual touch between participants and making sure that everyone is informed about consent.

Please be free of strong scents; many folks would rather not be close to someone who smells of cigarettes, perfume, or essential oils. Your clean self is a good smell!

BE SOBER: Please do not drink or smoke before or at this event.
WHAT TO BRING: personal water bottle and snacks to share, a friend, a date – whatever cuddle accessories you like! The only thing that you are required to bring is a clean and sober you.
SAFETY-
We take individual and group safety seriously! if you experience, see, or know that one of our participants is not safe to be at a touch based event we want to know about it. We are committed to doing our best to create a safe environment which means that if someone is causing harm (physical or mental) that person is not welcome here (this includes harm that takes place outside of our events). We stand behind survivors and know that some of our participants are here to heal from touch based trauma.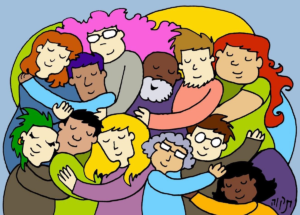 Note:  if you want to attend this event and truly can no afford it, please be in contact with us.
We have work trade & scholarship options! NO one turned away for lack of funds.