Privacy Policy –
All client information will remain fully private. We will never share your name or information with outside parties.
Cancellation Policy –
Appointments canceled more than a week in advance are eligible for a full refund.  Appointments canceled more than 24 hours before the appointment are eligible for a 75% refund.  And appointments canceled less than 24 hours in advance do not receive a refund unless it's an emergency.   If you show up late to a session, your session will be shortened, and you will still be responsible for full payment.
Hygiene Expectations –
Please come to your session clean, and free of strong odors (this includes perfume, cologne, and essential oils). You can wear your daily clothes, although some clients prefer to wear sweatpants, pajamas, or other comfortable clothing.
Payment –
You will be expected to pay for your first session through Venmo or PayPal prior to arriving. Established clients will be able to pay cash or check at the start of their session, or continue to use internet payments.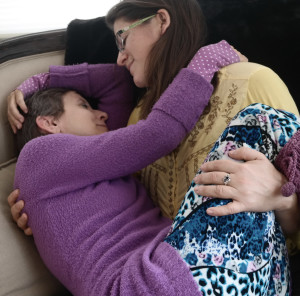 What happens during a session?
For the first session, the therapist begins by looking over the intake form and may ask you a few clarifying questions. This is also a time for you to ask any questions you may have. (Please print our intake form at home and fill it out or arrive five minutes early so that the time it takes to answer the questions does not interfere with the actual session time.) We ask that you bring a state issued ID with you; we will make a copy for our file.  
Likely, the session will begin with hand holding and/or a hug. You will then discover, with help and guidance from your therapist, how you would like to be held. Some clients want to be held as if they were a baby. Others want to lay their head in the therapist's lap. Others want to be spooned.  Finding a comfortable position is an important part of the process; the position can be changed as often as necessary to keep everyone comfortable (we want to make sure no limbs are in awkward positions or falling asleep).
During the session, you have the option to talk or share silence; some people choose a nonverbal experience and others talk while being held. Some people allow themselves to cry and release their emotions. Your therapist will never offer advice; they will be happy to offer reflective listening. Music is available during the session upon request. You are welcome to bring your own music streaming device or make requests as to the music provided by your therapist. The intention of the session is for you to feel seen, heard, accepted, calm, relaxed, and at ease.
Where does the session take place?
Our therapeutic space is two miles north of downtown Asheville. The space is private; however, this is a co-working household, used 24-7 by people with all sorts of jobs/professions/lifestyles.  Street parking is available near the facility free of charge.
If the weather is warm and dry, sessions can take place outside in the yard or in a public park downtown if you prefer to enjoy the sunshine while being held. Outcall sessions are available for established clients; additional travel costs will be added.  Note: Our facility is not currently handicap accessible.
Am I expected to tip my therapist?
We welcome tips, but they are not expected.
Who are our clients?
We welcome clients of all ages, genders, body sizes, and backgrounds. We believe that all people are worthy of touch and we do not discriminate. Some clients are widowers or have recently experienced a divorce. Other clients are caregivers who need to feel cared for. We have had clients who are in relationships and want another outlet for receiving touch. We offer safe healing touch for survivors of trauma and sexual violence, reminding the person that fully consensual touch can be a healing process. Some people come simply because they are curious.
How long has HoldMeAVL been around?
Ishka has been cuddling friends for her entire adulthood and holding clients professionally since 2014.  The official name and webpage for HoldMeAVL was created in 2015 as a way of reaching more clients and clearly explaining what services are being offered.
How come it costs so much? 
We pride ourselves in paying above living wage for Asheville NC.  Small businesses have costs that clients don't see (rent, taxes, advertising, utilities, laundry, cleaning…). We do offer scholarships and discounts for those who want our services but cannot afford them.
More questions? Contact us using our contact page.