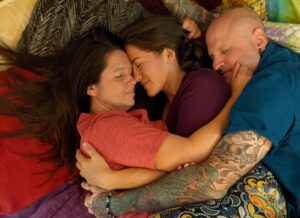 Check out our Meetup to see & register for our
upcoming events!
Send us an email at holdmeAVL@gmail.com
if you want us to notify you of future events.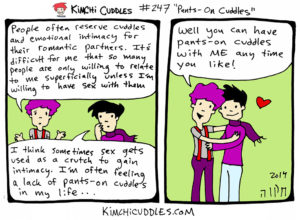 What is a Sensual Snuggle Event?
A Sensual Snuggle Party is a sweet sensual touch based event where we gather to connect, cuddle, massage, play, laugh, cry, share intimacy, vulnerability or whatever else spontaneously arises. It's a drug and alcohol-free space where we can relax and connect with other humans who are seeking touch based connection. This is a space to practice expressing what feels good and what doesn't, asking to get your needs met, setting boundaries, and perhaps even overcoming rejection.
We believe that all humans need affection, touch, belonging, and connection. We need these things almost as much as we need food, water, and sunlight. Unfortunately we live in a world where the simple joy of sharing physical contact with other human beings is fraught with fear, doubt, and distrust. As a society, we simply don't have that many ways to collectively embrace our intimate/sensual/erotic selves in a healthy and life giving way. In the places where sexuality/sensuality does show up, it is often expressed in unhealthy ways that do not include the heart, mind, and soul, making the simple joy of safely sharing intimate physical contact with other human beings something that is rare and hard to find. There are many good reasons to keep ourselves protected and separate from other people. AND…. There are many good reasons to overcome those obstacles.
Many of us are longing for more touch, connection, community, pleasure, validation, and delight in our lives. Conversation is a wonderful way to connect with other people, but some of us crave physical connection as well. The body's bliss hormone, Oxytocin, is released by nurturing, welcome, consensual touch and is essential for the well-being of your body, your heart, and your spirit. Your nervous system, blood pressure, and emotional health all benefit from healthy, heart-full touch!
Safe touch enhances our ability to connect with and trust people, our capacity to respect and care for ourselves, our creativity, and our sense of safety, comfort, and belonging. In today's high-tech low-touch society, we especially crave the authentic connection, deep listening, and nurturing touch that we were born to receive.
Snuggling is a great way to get that kind of touch. And sometimes… you know… you want to do more than snuggle.
Who should attend:
People who are interested in safely exploring touch and sensuality with strangers. 

This includes people who are single, people who are not single, couples, folks who are new to town and looking for connection, people of all/any genders and sexual orientations, people of all ages (18 and up). People who understand and respect consent, who will take care of themselves and people around them. This event is queer-normative. The guest list will include all genders, orientations, ages, and personalities. If that's not your thing… This is not the event for you.
Who should NOT attend:

People who are only looking for a sex party.

People who do not understand and respect consent.

People who have extreme fear of setting and speaking their

personal

boundaries; in order to create a safe space we need to know that you will say "no" if you feel a no.

People who are

homophobi

c, racist, sexist, ageist, …

People under 18 years of age.  Note- we may request to see your ID to verify your age.
Our Agreements:
1) Everyone keeps their pants on
Our intention is that this is a time and place for sensuality not sexuality. The object is to enjoy one another without trying to build our sensual/sexual energy toward orgasm. It's not about trying to get someone off, it's about enjoying being aroused, delighted and connected and letting that be enough. And… If you find yourself wanting more than that, great! We encourage you to enjoy that wanting. Delight in being turned on. Sit with it. Savor it for the whole party. But don't act on it there.
2) We take care of ourselves and each other
Don't do anything you don't want to do. Do (and ask for) what you want. Accept yummy offers. Check in with yourself and others regularly.Each person brings their own safety. And we all look out for each other
3) Always ask for and receive verbal consent
Say yes, to what you want and feels good. Say no to what you don't want and doesn't feel good. If you are not hearing a "Hell yes!" then it's a "No." It's okay to change your mind at any time, for any reason.
4) Everything is an experiment and it is OK to be uncomfortable (as long as we are safe)
Trying something new is sometimes uncomfortable. You don't have to know what you are going to want ahead of time. You can change your mind as many times as you want. Follow your authentic "yes" and authentic "no" in each moment; celebrate others doing the same. The only way to grow is to get out of our comfort zone.
5) Confidentiality
We respect each other's privacy and hold in confidence everything that is shared and done at this event.
6) Enjoyment
Sensual experience is beautiful, natural, and healthy ~ Embrace it! Celebrate it! Enjoy it!
Schedule of the Evening
6:45pm Doors Open, Mix & Mingle

7:00pm We gather in a circle to meet each other, build a container, cover consent and boundary setting and discuss event agreements. Then we will play a few intimacy building games to meet and connect with other people in the room. 

Self directed sensual snuggling.

10:45pm Closing Circle; a time to re-center and connect as a group to verbally share anything that came up at the event or to voice gratitude to someone(s) you enjoyed interacting with.

11:00pm cleanup; you are welcome to help, otherwise we ask that you leave quietly after closing circle.
Space is limited for this sweet event; be sure to register in advance to secure your spot and avoid being turned away!
MORE DETAILS-
Wear comfortable clothing. (If you choose to wear a skirt or dress, please wear shorts underneath so we can stick to our: Everyone Keeps Their Pants On policy.) Try to strike a balance between comfy and sexy. Out of consideration for other participants, please be fresh and hygienic and DON'T WEAR any fragrances, colognes, or perfumes.
Bring your open heart, and be prepared for the open hearts of others. If you feel inspired, you may bring a snack to share. Drinks and finger food only please.
Cancellations and refunds:
*If you cannot make it, let us know immediately!! We usually have a waiting list of people who really want to come!
* Full refund for cancellations up to 7 days in advance.
* If you are a no show, or arrive after the doors have closed, no refund.
SAFETY-
We take individual and group safety seriously! if you experience, see, or know that one of our participants is not safe to be at a touch based event we want to know about it. We are committed to doing our best to create a safe environment which means that if someone is causing harm (physical or mental) that person is not welcome here (this includes harm that takes place outside of our events). We stand behind survivors and know that some of our participants are here to heal from touch based trauma.